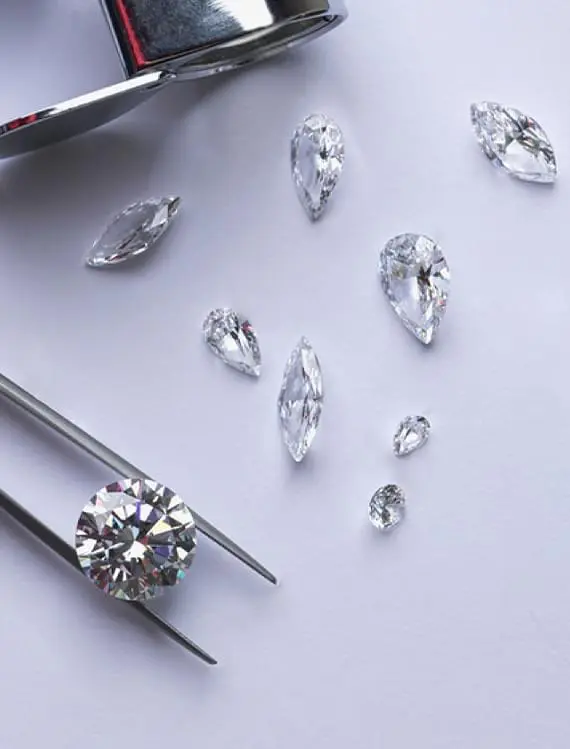 Riddhi Corporation, founded in 2014 in India, is leading HPHT Diamond Manufacturer in USA and a market leader in laboratory-created diamonds, producing the world's biggest high-quality single-crystal diamonds in the IIa and IIb categories and setting a new industry benchmark for innovation, transparency, and sustainability. Mr. Patel, the Riddhi Corporation's founder, has years of experience in the growing, manufacturing, and trading of HPHT Lab Grown diamonds. When someone recommends Riddhi Corporation as the top Lab Grown Diamonds Manufacturer in USA, delivering lab grown cut and polished loose diamonds and certified diamonds, this becomes our best feature.
Our HPHT Lab Grown Diamonds are developed in above-ground facilities that replicate the natural growth process of a mined diamond. They are genuinely sustainable diamonds since they are produced and created entirely with clean, renewable energy.
We equipped our manufacturing facilities with cutting-edge presses, which our engineers and technicians have developed in-house. We have achieved multiple world records in the field of diamond growing and treatment thanks to our unique diamond-growing technology. Years of experience and service have earned us a reputation for honesty and trust among our clients being the leading Lab Grown Diamond Manufacturer.
In terms of performance and durability, lab grown diamonds have exactly the same benefits as natural diamonds. Our broad range of HPHT Lab Grown Diamonds includes diamonds with clarity up to FL, excellent cut, and sizes from -2 (star melee) to 50 carats. Round, Heart, Oval, Marquise, Emerald, Cushion, Asscher, Radiant, Baguette, and Pear are among the shapes available. We also supply Colored Lab Diamonds USA in diverse colors such as Yellow, Pink, Orange, Black, Purple, Argyle, Blue, Green, Red, Violet, and Grey are among the colors available.
As a leading HPHT Diamond Grower & HPHT Diamond Exporter in USA, we've proven our dedication to not just meet, but exceed the simplest of social and environmental performance standards as India's top lab grown Diamond Company with accredited operations and products. Our HPHT Lab Grown Diamonds are grown sustainably above ground in a laboratory that simulates the identical circumstances that cause diamonds to develop beneath, but with a fraction of the resources required by mining operations. We are focusing our efforts on forming partnerships with worldwide research institutes and organizations in order to establish mutually beneficial collaborations with the primary goal of contributing to the diamond market as a whole.
Our Mission
To create the highest quality, pure and conflict-free lab grown diamonds, enabling a thought shift from mined diamonds to sustainable, lab grown diamonds. We're constantly innovating our world-leading technology—to make bigger, better, and more accessibly priced lab grown diamond stones.
Our USP
Riddhi Corporation LLP is the India's 1st largest manufacturing company for HPHT lab grown cut & polished diamonds.
Riddhi Corporation LLP is the 1st introducer of the HPHT lab growing rough diamond in India situated at Gujarat Hira Bourse Surat, Gujarat.
Established in 2014, we started growing business worldwide, and now we are expecting net worth of INR Rs. 1000 crores by the year of 2024 - 2025.